Restaurant Fire Protection System
Commercial Cooking Equipment Fire Suppression Systems
Fires in cooking equipment of commercial eating establishments cause millions of dollars in damage each year. A fire can be devastating to a food service establishment often causing a cessation of normal business activities for days or weeks, and sometimes permanently. Due to the nature of cooking the threat of fire is always present in a restaurant. Having the means to stop a fire in or around a cooking appliance before it has a chance to spread to the building is essential. Let G Fire Solutions show you the way to the best fire suppression solution for your establishment, before a fire can cause any damage.
G Fire Solutions can design, provide, and install Commercial Cooking Equipment Fire Suppression Systems for any application. We represent the manufactures Amerex, Ansul, Kidde, Pyro-Chem, Range Guard of the most thoroughly tested fire suppression equipment in the world.
Commercial Cooking Equipment Fire Suppression Systems are a pre-engineered solution to appliance, ventilating hood and duct fires. The systems are designed to maximize hazard protection, reliability, and installation efficiency. With a pre-enigineered design concept, and a wide array of available cylinder sizes G Fire Solutions can offer the most efficient, effective protection for every type of cooking appliance; range tops, fryers, griddles, broilers, woks, as well as hood and duct systems.
All newly installed systems meet, and in most cases exceed, the stringent standard of performance set by U.L. 300 (click to U.L. 300 Q & A). The systems utilize APC (Aqueous Potassium Carbonate) wet agent. Wet agent fire suppression systems provide quicker flame knockdown and faster fire suppression than the previously used dry chemical agent fire suppression systems. Wet chemical based fire suppression systems are designed to work well in today's modern commercial kitchen where equipment has become more energy efficient and lower fat cooking oils are utilized.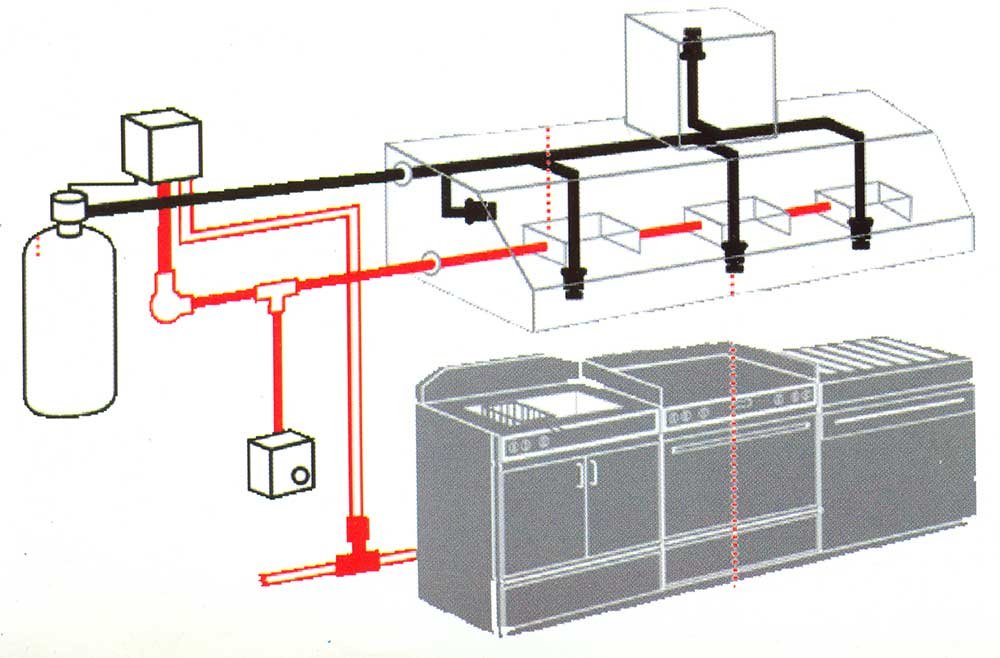 Another big advantage of a wet chemical fire suppression system over its predecessor is the quicker after fire cleanup.
Let G Fire Solutions work with you to determine what type of system best fits your scenario. From the method of system actuation (manual pneumatic, manual electric, automatic heat detection), to the placement of the agent storage cylinders (which in many cases can be completely out of sight) BFPE
Unlike some other fire protection company's who may have sales representatives who handle many different types of fire protection products, G Fire Solutions has a team a dedicated sales professionals who handle only Commercial Cooking Equipment Fire Suppression Systems. This focus allows BFPE to offer our customers the service and attention they deserve. To arrange for a consultation with one of our sales representatives please click on the link below.
Commercial Cooking Equipment Test & Inspection
Maintenance and periodic testing of commercial cooking equipment fire suppression equipment is critical in order to ensure that the systems operate as designed in the event of a fire. Most jurisdictions and insurance companies require that these systems are tested in accordance with NFPA 96 in order to be in compliance with local code and/or insurance policy provisions. The service is performed on a semi-annual basis and causes no disruption to normal business activity. At the end of each service call the owner is provided a copy of a completed service report and a service tag is affixed to the equipment (also proof of compliance). To arrange for a quotation to have the semi-annual test and inspection performed or to schedule a service please click the following link. We offer special discounts to our customers that have the service as a part of a Total Fire Protection Service package and members of our Premier Partnership Program. Class K Wet Chemical Fire Extinguishers:
In 1998 the NFPA 10 Standard (Portable Fire Extinguishers) was modified. One of the changes made was the addition of a new definition for fires in cooking appliances that involve combustible cooking media (vegetable or animal oils and fats). The new standard reads, "New fire extinguishers provided for fires in cooking appliances that involve combustible cooking media (vegetable or animal oils and fats) shall be listed and labeled for Class K fires."
Wet Chemical fire extinguishers are the best restaurant kitchen appliance hand portable extinguisher available. The new extinguishers are tested and approved for Class K fires. They contain a potassium acetate based, low PH agent that was originally developed for use in pre-engineered cooking equipment fire extinguishing systems. The Class K extinguishers are tested on commercial deep fat fryers using the same type of fire test as UL300 pre-engineered restaurant fire extinguishing systems. The agent discharges as a fine mist which helps prevent grease splash and fire reflash while cooling the appliance. The safety extension wand with spray nozzle allows the operator to stand back at a comfortable distance, yet there is no overspray which would result in costly cleanup and downtime. There is no airborne dry chemical residue to reduce vision and cause considerable cleanup. The Class K extinguisher is the ideal choice for use on all cooking appliances including solid fuel charbroilers.